"Feeling stressed? There's a beach for that". – Unknown
We had always been eager on visiting the mountains. Have you ever thought about what it looks like when you visit any beach? Andaman is the answer of your questions. Andaman is a wonder of nature. This archipelago provides a lot of attractions for all tourists and beach lovers. Andaman has some of the best beaches, most raw chains, and exotic resorts to visit. This place also has an interesting history and all these are the reason to visit this amazing and mesmerizing destination of India.
About Andaman & Nicobar Island:
The Andaman and Nicobar Islands is a union territory of India and consists of 572 islands, of which 37 are owned at the terminal of the Bay of Bengal and the Andaman Sea. the Andaman Islands, are separated by the 150 km wide Channel known as Ten Degree Channel.
Andaman and Nicobar Islands, are remote islands in the Indian subcontinent and have some of the most exotic beaches, rich in marine life, with the best coral reefs, and are a perfect holiday destination for beach lovers.
Tourism to the Andaman and Nicobar Islands is increasing due to the popularity of beautiful beaches and fun-adventure sports like snorkeling, sea-walking, scuba diving, glass bottom ride, etc. Andaman get highlighted when Time magazine rated one of its beach-Radhanagar Beach on Havelock Island as the best beach in Asia in 2004. If you wish to experience the beauty that looks like Maldives or Hawaii in India, then you should hop for an amazing place to visit the serene beautiful beaches of Andaman. This is the best place for scuba diving or relaxed vacations or enjoying nature. You can explore Andamans a lot, as it offers something for all kinds of travelers. This is the place; you have to put on your bucket list.
5 things to do in Andaman and Nicobar:
Famous as the Kaala Paani Jail during the British rule in India, today, it stands as a memorial to the freedom fighters who were killed in the prison. The Light and sound show is the main attraction. The Jail Museum is another reason to visit. A nominal fee is charged and it is open on all days except Saturdays and Mondays.
A beach is to walk barefoot on the soft sand. Corbyn Cove Beach is that beautiful public beach in Port Blair where one can enjoy this among other things to do. You can do many other activities on other beaches of Andaman. You can enjoy a lot of adventure sports like jet skiing, snorkeling, and more. The shore has a couple of food shacks for one to enjoy local food in Andaman.
When beaches come to our mind we think of Andaman and Nicobar Islands, there is more to explore. one can go for nature walks here, especially through the vast rubber plantations. You can also learn more about the cultivation of rubber through a guided tour. You can find many spice plantations as well.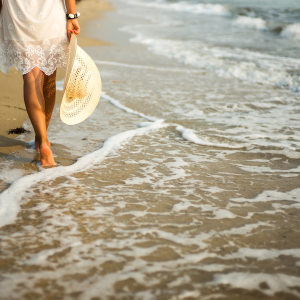 Trekking is a standout amongst the most looked adventurous experience sport in the Andaman and Nicobar Islands.  If you are a nature lover and enjoy walking in the hills and love the views, then you can trek in the Andaman. Trekking in Andaman Island is satisfying, as most of the islands are covered with thick tropical rainforests, teeming with wildlife, and rare and endemic plants.
Andaman is blessed with white sand and blue water beaches with a stunning view of sunrise and sunset. One can enjoy different islands when planning to visit Andaman. As soon as you arrive in Andaman, then you can go on the journey to different islands starting from the capital, Port Blair and there are ferries available to different islands.
If you are planning a paradise vacation to the Andaman Islands, it should top your bucket list. With a huge variety of islands located in a closer vicinity, it is easier to hop across islands and experience exotic things that every island has to offer. What are you waiting for? Book your tickets and hop your way to the beautiful islands in your much-awaited Andaman trip with NVR Travels.